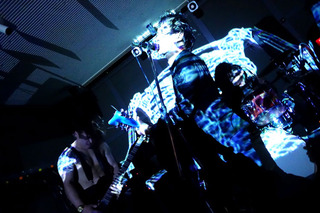 I saw FIFTHNEWHEAVY one-man gig at nano in Kyoto on September 22, 2020.
At first, I was burned by the tremendous heat and was taken to the other side of the world.
This live project is an offer from nano to FIFTH in answer to FIFTH no audience live streaming in April of this year.Before I went, I looked at nano's website on the train and was so moved by the manager's passion for today that my heart was shaking.
A hearty booking is not a normal night, of course. For us, the live show is always the hare in hare-to-ke.Originally, the live show itself was not an everyday occurrence, but a special one. On top of that, the story of NANO and FIFTH exists tonight. I think the fact that the story exists first is a very important point. We live on stories, and we weave stories again. And it's a one-man show and the audience is limited to 10 people. How could it not be special?
Even in the midst of the coronavirus, some live music venues in Osaka have continued to run without stopping. I've had a lot of good nights without stopping because of it. But not everyone was like that, and probably some of them hadn't been to a live music venue in a while. Each of us came to that day and place to bask in the heat of FIFTH, taking in the current situation individually.
This time, there was an off-talk between the members and a talk between the manager of nano and Yoshi-san before the show. It's a rare experience to be able to watch a documentary movie of the music and the band's environment and their story of the past, present and future.
I think the show lasted a little over 90 minutes. Lately, the set lists have been similar, with many of them working around mini-albums. Each show is different, but I've been able to do more than that.There are a lot of songs I like, so I was feeling a little short. So the one-man set was really great, with lots of fun. I was delighted to hear the RAW of their second album. I've always wanted to hear Yoshi's RAW harp. I think Yoh-san, who joined from the 3rd, did a great job because there were a few songs from the 2nd.
FIFTH is a band that plays live while writing new songs, and everything is going on at the same time. On top of that, if 'they are going to be playing some old songs for a one-man show, it must be like a new song for Yoh-san. I'm sure it must have been pretty heavy.FIFTH can only be performed by members who share the same macho-ism and unwavering vector. And the fruit of that will be their sweat and heat, which will be released endlessly, to make their hot live show. When it comes to one-man, it's usually divided into one or two parts.There will be an OA and a DJ in between. However, the show was 90 minutes long without any long MC, which I thought was very typical of FIFTHNEWHEAVY. It's a strong.
I made sure that the staff was hard at work blacking out in front of me and taking movies.It wasn't a smart move with a bunch of cameras set up, but the staff sat down to shoot for two hours without disturbing the audience.I think it was tough. There's nothing but love there. I ended up just dancing around like a madman on the live and breaking down.
Thank you so much for giving me a crazy night that was worthy of the last live pitch of the four-day weekend.I will continue to watch FIFHT with love as it continues to run!